APPLICATION
The 25-CREZD may be applied in a wide variety of applications where large unitized loads or palletized loads need to be conveyed and accumulated with no back pressure. It is ideal for shipping and receiving pallets, and where these operations need to be combined into one conveyor, the conveyor may be supplied with the reversing option. The 25-CREZD fitted with the softstart/softstop option makes it great for handling tall palletized loads moving from a palletizer to a stretch wrapper where sudden starting and stopping may risk toppling or shingling of the product.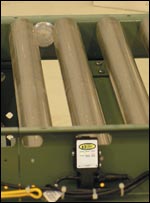 EZLogic®'s onboard zone-on-delay timer makes unloading accumulated pallets a breeze on the 25-CREZD. When a pallet is removed from an accumulated line, the pallet upstream from the unloaded zone will delay advancing forward. This allows the forklift time to clear the conveyor path, preventing jams during unloading.
An infeed loading zone delay kit is available for applications where product needs to be loaded on the infeed zone with a forklift. This kit delays the loaded pallet from advancing forward thus giving the forklift time to clear the conveyor after positioning the product on the infeed zone.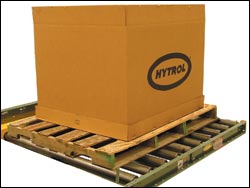 The combination of EZLogic® and EZDrive™ technology makes the 25-CREZD ideal for pallet storage and retrieval systems. When pallets are accumulated or not flowing on the conveyor the zones go into sleep mode. While in sleep mode, the zone stops running in order to save energy and save wear on mechanical components.
The flexibility combined with the robustness of Hytrol's Model 25-CREZD makes it the ideal solution for many large item and pallet applications.