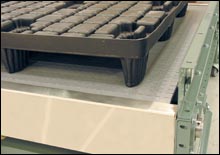 APPLICATION
The PLEZD may be applied in a wide variety of applications where large unitized or palletized loads need to be conveyed and accumulated with no back pressure. The plastic modular belting makes it ideal for conveying many pallets or loads that may not be conveyable on conventional roller conveyors. Flexible plastic pallets, footed pallets or bagged items are no problem for the PLEZD. Often wooden pallets contain boards that are just too weak to support the product load traveling over rollers. The modular belt offers the support necessary to convey those problematic pallets.

The PLEZD fitted with the soft start/soft stop option makes it great for handling tall palletized loads moving from a palletizer to a stretch wrapper where sudden starting and stopping may risk toppling to shingling of the product.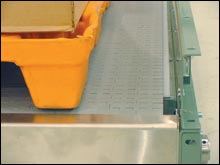 EZLogic®'s onboard zone-on-delay timer makes unloading accumulated pallets a breeze on the PLEZD. When a pallet is removed from an accumulated line, the pallet upstream from the unloaded zone will delay advancing forward. This allows the forklift time to clear the conveyor path, preventing jams during unloading.

An infeed loading zone delay kit is available for applications where product needs to be loaded on the infeed zone with a forklift. This kit delays the loaded pallet from advancing forward thus giving the forklift time to clear the conveyor after positioning the product on the infeed zone.

The combination of EZLogic® and EZDrive™ technology makes the PLEZD ideal for pallet storage and retrieval systems. When pallets are accumulated or not flowing on the conveyor the zones go into sleep mode. While in sleep mode, the zone stops running in order to save energy and save wear on mechanical components.

The flexibility combined with the robustness of Hytrol's Model PLEZD makes it the ideal solution for many large item and pallet applications.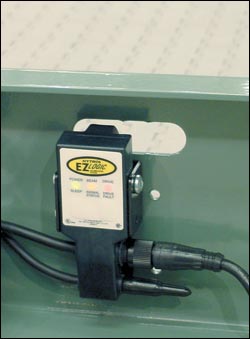 OVERVIEW
The PLEZD is composed of accumulation zones ranging from 30 inches to 120 inches in length. Each zone contains an Electronic Zone Drive (EZDrive™) that is controlled directly by the EZLogic® Accumulation System. The intelligence of the EZLogic® accumulation system controls the zone drives in such a way as to only run the zone when needed. The zone drive is turned off when there are no pallets present or when they are accumulated. When the drive is off, there is no wear on mechanical components, no noise created by the zone, and no electrical power being consumed by the zone drive.
Installation and setup is made easy with the PLEZD. Electrical power is supplied to the main disconnect panel which distributes both the EZDrive™ zone power and the EZLogic® control power through sealed industrial plug-in connectors. Both high and low voltage power simply plug in a daisy chain fashion from zone to zone.