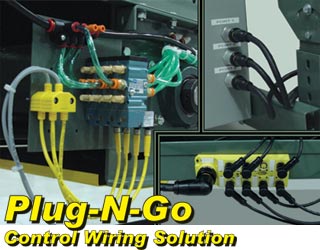 Hytrol's Plug-N-Go control wiring is designed for use with standard control solutions offered by Hytrol, such as ProLogix Sortation Control for the ProSort 100, ProSort 400, ViperSort, SC, and ZipLogix Merge Control.
Plug-N-Go control wiring provides the advantages of network controls with the reliability of "hard-wired" solutions. All inputs and outputs on the sorter simply plug into the strategically-located distribution blocks along the sorter. These distribution blocks in turn are plugged into the sorter control panel via "home run" cables.
This Plug-N-Go wiring solution provides quick installation, reduces field wiring costs, and provides a quicker, more trouble-free startup than conventional wiring methods.
FEATURES
Quick Installation
Faster Startup
Reduces Field Wiring Errors
Reliable