858-455-5800
Home
Shop Online
Products
Services
Customers
Picture Gallery
Request Literature
Ask the Experts
Newsletters
FAQs
Contact Us
About Us





Guaranteed Secure
Shopping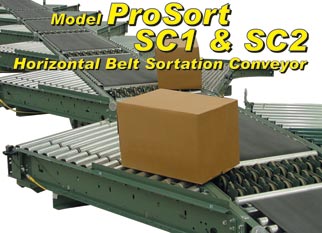 Hytrol's Model ProSort SC series of sorters consist of a belt conveyor fitted with divert modules that are powered from the belt. The divert modules contain high friction wheels that pivot in order to direct cartons from the main belt conveyor onto take-away lines. The ProSort SC1 diverter can direct products to take-away lines located either on the right or left side of the conveyor while the ProSort SC2 diverter can direct products to both the right and left sides of the conveyor. Take-away lines may be either gravity skatewheel or powered rollers. Spurs may be slave driven from the diverter when the application requires powered take-away rollers but where the additional drives on the spurs would not be cost effective.
FEATURES
Divert rates up to 100 cartons per minute
Speeds up to 300 feet per minute
Package weights up to 75 lbs
Minimum package size – 6 in. wide x 9 in. long
Positioning diverter for justifying products
Precision bearings in rollers for quiet operation
No chain drives for low maintenance
Drive - variable frequency driven shaft mounted gearmotor
High performance drive w/ pneumatic belt tensioner on units over 30 ft long
Flexible divert module location
Optional slave driven spurs
---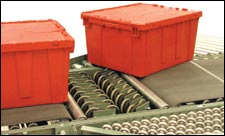 APPLICATION
Hytrol's ProSort SC is ideal for sortation applications requiring up to 100 cartons per minute to be sorted to shipping lanes for distribution of product. The ProSort SC utilizes slave driven diverters that are directly powered from the main belt without the use of chains. This, along with all precision bearings in the rollers, provides quiet running and low maintenance operation in applications where up-time is critical to output.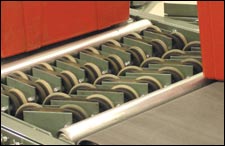 The ProSort SC has been utilized for both full case and split case sortation applications. Products that may be handled on the ProSort SC range from standard household items to automotive components to almost any product in a cardboard box or tote.

Hytrol is always willing to test your specific product on the ProSort SC. In applications where powered spurs are critical for accurately diverting product, the spurs may be slave driven from the diverter. This eliminates costly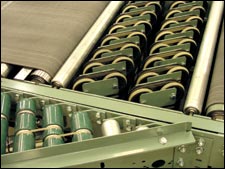 drives, therefore providing a more cost effective solution for many applications. Drives also may be synchronized together in order to provide one induction area on solutions requiring multiple drives due to long overall lengths.

Hytrol also offers a ProLogix control solution specifically design for controlling and tracking the performance of the ProSort SC.
---
"SPOTLIGHT" is a publication by Hytrol Conveyor Company, Inc. - Effective January 2004
All Materials Copyright 2004-2005 Hytrol Conveyor Company, Inc.