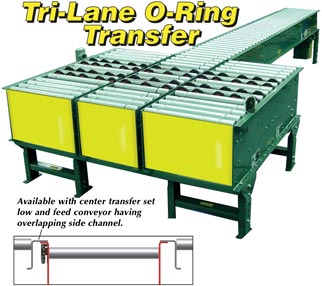 Hytrol's Tri-Lane O-Ring Transfer provides flexible transfer of product to side lanes by diverting to the right or left at 90 degrees. The module houses three transfer mechanisms that work independently to increase throughput.
The transfer module was designed to take the place of multiple transfers sitting side by side. The module was also designed with individual transfers to speed cycle rate by reducing the length of one conveyor-to-conveyor transfer.
FEATURES
Two or three transfer designs available - each transfer acts independently
Side transfers and 4 ft. to 10 ft. conveyor sections are slave driven from the center lane with chain or timing belt crossovers
Side transfer modules can have separate drives
Rubber bushings in the lift mechanism attenuate the stroke sound
4 Ga. angle with strand cutouts in lieu of 12 Ga. channel with strand cutouts
Transfer cycle rates are the same as currently published for an o-ring transfer; however, keep in mind that after the side transfer accepts product, the center transfer can lower to be ready for the next product.
APPLICATION
The Tri-Lane O-Ring Transfer Module works with Hytrol's standard 190-NSPEZ model. This model is a horizontal live roller conveyor, designed for zero-pressure accumulation of product. Positive braking in each zone reduces the possibility of damage to fragile items during accumulation. Singulation feature allows product to be removed from any location on the conveyor.