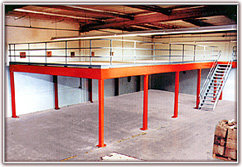 LMT brings you decades of experience in the construction of widespan freestanding floor systems. Our registered engineers will custom design, at a competitive cost, the mezzanine best suited for your needs. LMT is top quality contruction. We are an approved L.A. City fabricator and use only AWS certified welders.
Modular Mezzanine Systems Include:
Wide span bolt together components (K.D.)
Fully welded and decked modular floor sections (3-D)
Rack Supported Mezzanines
Floor Deck Options Include:
Plywood
Bar Grating
Steel Floor Plate
Metal Plank or Concrete
LMT Industrial stairways are as rugged as they are attractive. They are designed to meet UBC codes and provide quick assembly. Available with open or closed risers and tread widths to suit your needs. Fabricated from tubular steel, LMT three rail guardrail with kickplate provides safety and code compliance, Accessories include a variety of gates to meet your access requirements.