858-455-5800
Home
Shop Online
Products
Services
Customers
Picture Gallery
Request Literature
Ask the Experts
Newsletters
FAQs
Contact Us
About Us





Guaranteed Secure
Shopping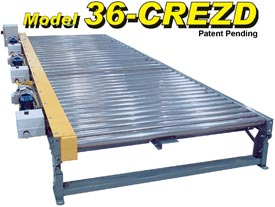 Hytrol's Model 36-CREZD is a heavy duty chain driven live roller conveyor designed for zero pressure accumulation of both unitized or palletized loads. This conveyor combines Hytrol's patented EZLogic® accumulation system with Hytrol's EZDrive™ system to provide the most versatile conveyor of its kind. This heavy duty conveyor is capable of reliably conveying and accumulating loads from 5000 pounds down to an empty pallet or slip sheet. The 36-CREZD design eliminates many mechanical components associated with conventional conveyors of its kind. Elimination of these mechanical components means less maintenance, lower elevations when required, and more flexibility available to meet your specific application requirements. Utilizing EZLogic®'s sleep mode functionality allows the zone drives to run only when needed - thereby minimizing energy consumption. The many standard features combined with the many optional features that are available for the 36-CREZD certainly makes it a leader in conveyor technology.
FEATURES
EZDrive™ System - energy efficient, low maintenance, & quiet
EZLogic® Accumulation System - flexible & reliable operation
Available with Retroreflective or Diffuse sensing of product
7" minimum top of roller elevation
Capacity - Up to 5000 lbs per zone
Reversing option available
Softstart/Softstop and Variable Frequency Drive options available
6" or 12" roller centers available
3-1/2" diameter rollers chain driven roll-to-roll
Zone lengths from 60" to 120", on 12" increments
---
APPLICATION
The 36-CREZD may be applied in a wide variety of applications where large unitized loads or palletized loads need to be conveyed and accumulated with no back pressure. It is ideal for shipping and receiving pallets, and where these operations need to be combined into one conveyor, the conveyor may be supplied with the reversing option. The 36-CREZD fitted with the softstart/softstop option makes it great for handling tall palletized loads moving from a palletizer to a stretch wrapper where sudden starting and stopping may risk toppling or shingling of the product.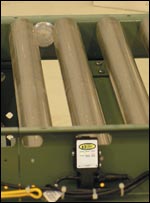 EZLogic®'s onboard zone-on-delay timer makes unloading accumulated pallets a breeze on the 36-CREZD. When a pallet is removed from an accumulated line, the pallet upstream from the unloaded zone will delay advancing forward. This allows the forklift time to clear the conveyor path, preventing jams during unloading.

An infeed loading zone delay kit is available for applications where product needs to be loaded on the infeed zone with a forklift. This kit delays the loaded pallet from advancing forward thus giving the forklift time to clear the conveyor after positioning the product on the infeed zone.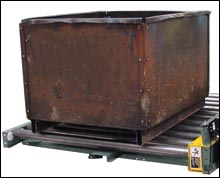 The combination of EZLogic® and EZDrive™ technology makes the 36-CREZD ideal for pallet storage and retrieval systems. When pallets are accumulated or not flowing on the conveyor the zones go into sleep mode. While in sleep mode, the zone stops running in order to save energy and save wear on mechanical components.

The flexibility combined with the robustness of Hytrol's Model 36-CREZD makes it the ideal solution for many large item and pallet applications.
---
"SPOTLIGHT" is a publication by Hytrol Conveyor Company, Inc. - Effective January 2004
All Materials Copyright 2004-2005 Hytrol Conveyor Company, Inc.