858-455-5800
Home
Shop Online
Products
Services
Customers
Picture Gallery
Request Literature
Ask the Experts
Newsletters
FAQs
Contact Us
About Us





Guaranteed Secure
Shopping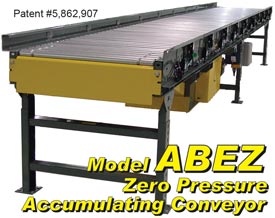 Hytrol's Model ABEZ is a zero pressure live roller accumulation conveyor. The many features provided by its' patented EZLogic® accumulation system makes it the most versatile conveyor of its type. The conveyor consists of accumulation zones each of which contains an EZLogic® accumulation module. The accumulation modules sense product presence to determine whether the zone should be driving or accumulating. ABEZ conveyor lines, regardless of length, may be fully accumulated with product with absolutely zero backpressure at the discharge end or anywhere along the length of the conveyor. This allows the conveyor to store or stage product for other operations with no product damage while minimizing power consumption and equipment wear. Also, with no backpressure, cartons may be easily removed from any point along its length for secondary operations. This standard conveyor is also equipped with photoelectric sensing of product making it reliable and trouble free when conveying products weighing practically nothing up to 150 lbs per foot.
FEATURES
Patented EZLogic® Accumulation System - Flexible & Reliable operation
Retroreflective or Diffuse Sensing of Product
New Trapped Roller Design - Provides quiet operation and reduced frame wear
New Integral Tail Design - with Heavy Duty Bearings
Zero Pressure Accumulation of Product
Standard Zone Lengths - 12, 18, 24, 30, & 36
No Minimum Product Weight
Capacity - up to 150 lbs per foot
Sleep Mode - Saves Energy and Equipment Wear when Cartons are not being Conveyed
Product Jam Detection
Selectable Singulation Mode, Slug Mode or Any Combination
Intermediate Zones Stop Available in Every Zone for Maximum Flexibility
Lengths - up to 200 feet
Brake Rollers Located in Every Zone for Good Product Control
Optional ABEC Roller Bearings Available for High Speed Applications
---
APPLICATION
The ABEZ is utilized in a vast array of applications ranging from manufacturing, assembly lines, packaging, shipping, to high speed distribution systems. Products that may be conveyed vary from cardboard boxes to plastic totes to custom assembly pallets of all types.

The ability to simply plug in intermediate zone stops in any zone makes this conveyor ideal for assembly lines containing operator workstations. Operators simply have to activate a zone stop contact for the next available product to stop for assembly, testing or inspection.

Another popular application for this conveyor is conveying products from packaging equipment to palletizers. The product may be accumulated and released in almost any fashion to match specific product requirements or palletizer requirements.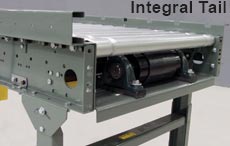 High throughput distribution centers utilize the Model ABEZ in areas feeding merges, sorters, as well as sortation take-away lines feeding shipping areas. The flexibility to select different operation modes, ability to detect product jams, and sleep feature allows this conveyor to function both efficiently and reliably in many material handling systems.
---
"SPOTLIGHT" is a publication by Hytrol Conveyor Company, Inc. - Effective January 2004
All Materials Copyright 2004-2005 Hytrol Conveyor Company, Inc.