858-455-5800
Home
Shop Online
Products
Services
Customers
Picture Gallery
Request Literature
Ask the Experts
Newsletters
FAQs
Contact Us
About Us





Guaranteed Secure
Shopping
Products: Wirecrafters - Also Available

---

Also Available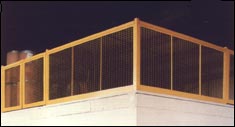 MEZZARAIL
Wire Crafters combined the strength of square handrail with the versatility of woven wire partitions to create a unique handrail for mezzanines. MezzaRail, designed to replace multiple rail systems, out performs them too. With its built in kick plate and top rail, MezzaRail sets up quicker-just two bots per section-and acts as a barrier. Objects that pass through multi-rail systems are restrained by MezzaRail. Meets BOCA and OSHA codes for handrail.
---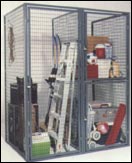 STORAGE LOCKERS
Wire Crafters' Woven Wire Storage Lockers are ideal for small enclosures. The units may be used individually or as a group. Two styles of lockers, single and double tiered, are available in a variety of widths and depths. Doors are prehung in angle frames which connect directly to wall panels. Two sided units fit in the corner of existing rooms. Free standing units may be installed anywhere.



---

OPTIONS
Locking Devices. Many types of locking devices are available for our doors. We install Exit Alarm Locks on doors which may only be opened in case of emergency. Electro-mechanical interlocks, card readers, and pushbutton combination locks are also available. Don't be afraid to ask for the type of locking device you need. We are glad to accommodate special requests.
Galvanized Partitions. Our standard panels and posts can be hot dipped galvanized for freezer or wash-down area applications. Ask your dealer for details.

Special Mesh Partitions. Wire Crafters can manufacture the 840 Style Partition with any mesh you need or want. Many sizes of woven wire mesh, from 12 gauge wire (.105) 1/2" opening to 2 gauge wire (.250) 2" opening, are stocked just for these requests. Call with your requirements, we will be glad to help you.

Solid Partitions. Some applications require a solid barrier. In these instances we replace the mesh with 16 gauge sheet metal. Or we use clear polycarbonate sheet for partitions that must prevent access without presenting a visual obstruction. These panels or exclusively to create a solid wall.