858-455-5800
Home
Shop Online
Products
Services
Customers
Picture Gallery
Request Literature
Ask the Experts
Newsletters
FAQs
Contact Us
About Us





Guaranteed Secure
Shopping
Products: Southworth Lifts

---

Spacesaver Lifts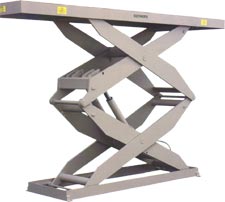 Up to 144" of vertical travel with minimum platform size is made possible through the use of multiple-scissor mechanisms. These lifts are extremely stable and ideal for use as mezzanine lifts, cargo lifts, positioning tables for test apparatus and in automatic palletizing. Capacities to 10,000 lbs.

Tandem Lifts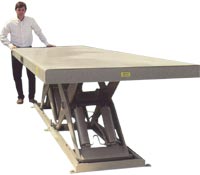 You can double the length, width, or both length and width of standard lift tables by using Tandems. These lifts are ideal for long loads such as lumber, sheets, pipe, bar stock and long assemblies.

Heavy-Duty Lift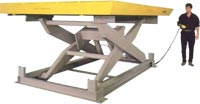 For heavy, bulky loads, these extremely rugged, strongly reinforced tables are ideal. They can lift and position loads to heights over 120". Standard model lifts up to 25,000 lbs, and custom designs are available for greater capacities.

E-Z Reach Tilters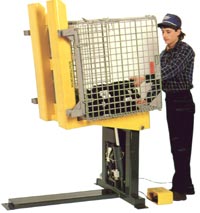 Take the bending, reaching and stretching out of working with containers. This tilt mechanism is designed for better ergonomics by bringing the basket right to the worker with no need to reach over the machine.

Portable E-Z Reach Container Tilters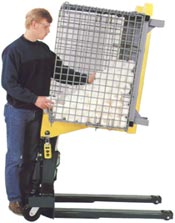 Portable E-Z Reach Container Tilters are specifically designed to improve worker productivity and safety by positioning wire baskets and other large containers so that parts are easily accessible without the need for bending, reaching or stretching. Casters are provided sot hat units can be moved easily throughout the plant. Models are available for load capacities up to 4,000 lbs.

E-Z Reach Lift and Tilt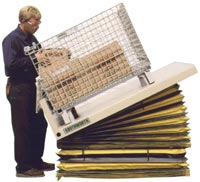 When there is a need to precisely position containers with independent control of vertical lift and tilt angle, E-Z Reach Lift and Tilt is ideal.

The universal Tilter Base (UTB) is specially designed to compensate for the shifting center of gravity as the load is tilted. It has an open frame top which allows the tilting hydraulics to retract within the frame resulting in a lower profile when in the full down position. The UTB also has a wider stance for improved stability. E-Z Reach Lift and Tilt can be furnished with any style and size of tilting platform up to 54" x 54".