858-455-5800
Home
Shop Online
Products
Services
Customers
Picture Gallery
Request Literature
Ask the Experts
Newsletters
FAQs
Contact Us
About Us





Guaranteed Secure
Shopping
Products: Southworth Lifts

---

Dandy Lift Lifter/Transporter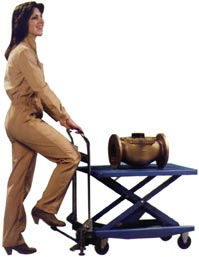 The Dandy Lift is essential wherever lifting, positioning, assembling, stacking, unstacking, transporting, r the need for an adjustable height work surface is part of the job. The Dandy Lift is available in manually and battery-powered models.

Stack Box Feeder/Positioner
For use with tote boxes, junior containers, and stock carts. Adjusts for loading and unloading parts with a minimum of lifting, bending, stretching, or reaching. Dollies roll on and off the adjustable width forks.

Low Profile Dandy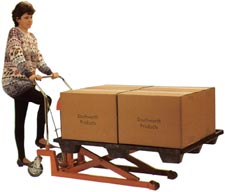 The convenience of a Dandy Lift in a low profile design. Two configurations are available, the M500 L for use with skids or containers, and the F500 L for use with plastic pallets. Both have an 1,100 lb capacity and can be raised and lowered to an infinite number of positions within their working range by means of a foot pedal and hand lever.

Floor Height Lift Tables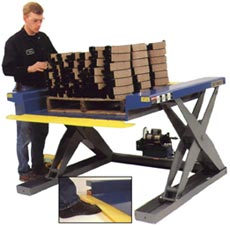 Now you can have a lift table that lowers to floor level and is designed for safety. You can roll on a floor truck or hand pallet jack easily. Electometric front edge protects against toe injury.

Mobile Power Lift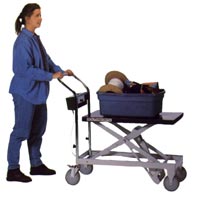 Lift and lower with the touch of a button. This lift is ideal for use in factories, offices, warehouses, repair facilities, retail stores, any place where lifting and transporting is required.

Dandy Leveler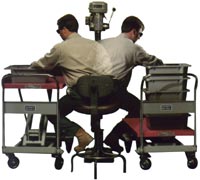 An inexpensive and practical approach to faster and easier feeding of blanks or parts in tote boxes. As material is transferred from the feed side to the offloading side, these transporters with spring actuated platforms automatically adjust in height for level feeding and offloading with minimum bending, reaching, and lifting. Spring tension may be adjusted for varying load conditions.

LIFTMAT Lift Tables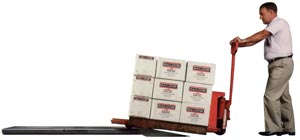 In leased buildings or on upper floors where pits can't be built, you can still have the advantage of a roll-on lift table. The LIFTMAT by Southworth has a collapsed height of only 2-7/8" wide travel range, to 36" Platform sizes range from 24" x 66" to 48" x 96".

Roll-On Level Loader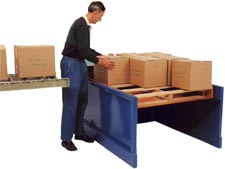 The Roll-On Level Loader lowers to floor height so pallets can be rolled on with a hand pallet truck.

The operator can adjust the height of the pallet to allow loading or unloading at the most convenient working height with a minimum of lifting.

Narrow side panels virtually eliminate reach-over while providing operator protection.