858-455-5800
Home
Shop Online
Products
Services
Customers
Picture Gallery
Request Literature
Ask the Experts
Newsletters
FAQs
Contact Us
About Us





Guaranteed Secure
Shopping
Products: Southworth Lifts

---

PalletPal Level Loader Fully Automatic, Spring Actuated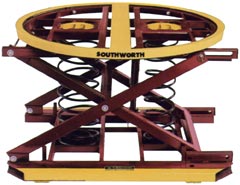 PalletPal Level Loaders virtually eliminate lifting, bending, and stretching-the primary causes of back injury. This simple, automatic unit is ideal for most applications. It incorporates a turntable to allow nearside loading and a system of springs and shock absorbers which lower and raise the unit, as pallets are built up and broken down, to maintain a constant working height. No power or air supply is required. Pallet loads to 4,500 lbs. can be handled.

Pallet Rotators/Skid Turners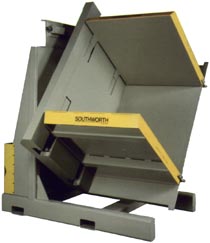 Our Southworth pallet rotators and skid turners are for transferring skid loads from one skid to another or from skid to slip sheet. They are also ideal for removing torn bags and other damaged goods that are typically found on the bottom of most stacks. The clamping mechanism holds the skid and load securely while turning a full 180 degrees. Models available for fork truck loading and in-line rotations.

PalletPal Stretch Wrappers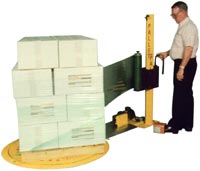 Handwrapping is dangerous. An inexpensive alternative, the PalletPal Stretch Wrapper incorporates a low profile powered disc turntable and a stationary mast assembly.

Simply wheel a loaded pallet onto the disc and move the stretch wrapping wand up and down the mast as the powered turntable spins the load.

PalletPal Level Loader Fully Automatic, Pneumatic Option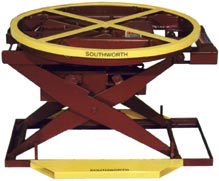 Designed for use where pallet loads vary widely and are changed frequently.

The airbag spring combination provides virtually linear response, and the spring provides a measure of safety by supporting the unloaded turntable in the event of accidental air loss from the airbag.

Fittings and tubing are simple with only two connections. The unit is equipped with fork packets for easy relocation and to provide a stable base that does not require lagging. Load range 500 to 4,500 lbs.

PalletPal Disc Turntables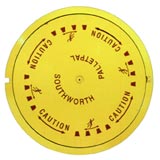 Low profile design, less than 1" high, allows PalletPal Disc Turntables to accept a hand pallet jack. By rotating the load, the operator always works from the near-side without walking around the pallet. The risk of injury from reaching or stretching is virtually eliminated. The turntable is totally portable and can be easily moved throughout the plant.

Stainless Steel and Corrosion Resistant
Coatings for Hot Water Washdown


If you need lift tables or PalletPal Level Loaders that can stand up to continual sanitary washdowns, contact us and ask about our new, stainless steel and corrosion resistant coated machines.